Virtual AGM? Get real or maybe even go hybrid...
The AGMs of most companies in the UK (like in several other countries) run on Lumi's technology, whether that be a physical meeting with poll cards, voting keypads or online as well as mobile or indeed a combination of any of those formats, the so-called hybrid AGM. So clearly I do have a horse in this race, however... There are two points I would like to make on this subject, raised again in an article in this weekend's Times.

Firstly, the debate seems to be quite polarised around the two positions of (i) preserve the status quo and maintain the current physical only AGM format or (ii) ditch the physical meeting and run the entire proceedings online only. However the reality is that the trend in most countries including the UK (but with the notable exception of the US) is moving towards the hybrid model. It is hard to make a corporate governance case against the hybrid model as it preserves the ability of the shareholder to pose questions face to face to the companies they own while also making the meeting far more accessible to the vast majority of shareholders who are unable to attend physically. My suspicion is that over time it will become increasingly difficult for companies to justify not enabling the technology which facilitates remote online attendance.

Secondly, the criticism of the virtual meeting format has the underlying assumption that by definition remote online attendance is inferior and restricts shareholders from holding the board to account. From a technology point of view this is not necessarily the case. The technology exists to permit quite sophisticated Q&A and messaging. The questions themselves can be as transparent or moderated as is deemed appropriate. All shareholders who log in and attend are authenticated and registered so that they can vote the number of shares which they legitimately own. This also means that the right to ask questions can be limited to real registered shareholders and so those posing questions can not necessarily hide behind anonymity. In some cases guests can also attend and view the proceedings online, but they are obviously unable to vote and their ability to ask a question can be removed or restricted. If there is a concern that "awkward questions weren't being vetted and filtered out," then everything in the platform is tracked and recorded for auditing purposes as is the case today to facilitate scrutineering of the results of the polls themselves.
I must say that there is a trend here which is playing out globally and feels unstoppable. The real focus now should be on proposing best practice. What is important is to understand the capabilities of the technology and the different options that exist about how it can be deployed and then to propose best practice to increase the relevance and purpose of the AGM while reaching as wide an audience as possible.
If you would like to learn more about Lumi's Hybrid or Virtual AGM options get in touch.
4 reasons why your annual meeting should be Virtual or Hybrid
With more and more companies opting to make their annual shareholder meeting a virtual (online only) or hybrid (offline supplemented by digital technology with mobile connections such as smartphones or handsets) affair – everyone from Ford, to PayPal, to Jimmy Choo have made the switch recently and that number is only going to increase – we decided to take a look at four reasons why your next AGM should be a virtual or hybrid one.
It gives every shareholder a voice
Shareholders come in all different shapes and sizes. While many will be perfectly willing and able to hold their own in a debate with an experienced Chairperson (and some may even relish it), there are just as many for whom the thought of going toe to toe and debating company strategy and direction with a highly qualified chair in front if hundreds of people is quite terrifying.
Tools like Lumi's allow shareholders and members to submit questions for the board through a smartphone app or handset with a messaging platform, breaking down barriers and opening the debate to those who might otherwise not have been involved.
No paper!
Of course, anything that looks out for the environment is a good thing. With a virtual or hybrid set-up, you can say goodbye to paper with everything including shareholder attendance, agendas and ballot papers all handled digitally. As well as being more convenient, using a smartphone app or handset ensures companies appear professional and progressive to shareholders, while freeing up organisers and planners to focus on making sure the rest of the event runs smoothly for everyone.
They're more accurate and secure
Accuracy and transparency are crucial when it comes to matters of corporate governance. A virtual or hybrid solution means companies no longer have to make do with a mere show of hands. Substituting the paper ballot for a digital alternative also means the whole voting process is far more transparent, with results displayed instantaneously to attendees and a full audit trail of voting activity available for scrutiny. And, with votes counted instantly, it means more time can be given to debating the important issues.
It's a more inclusive event
Perhaps the biggest tick in favour of a virtual or hybrid AGM is that they mean every shareholder has a chance to attend. Whether it is the small shareholder who cannot afford to travel or the institutional investor with large holdings that won't always have time to attend meetings in person, a virtual AGM gives everyone the opportunity to be present and have their say.
There are many more reasons why companies are increasingly turning to these two methods for their annual meeting, yet it all eventually boils down to one objective – all the above help to increase engagement and dialogue with shareholders, ultimately ensuring the company is best placed to achieve all of its business goals.
If you'd like to know more about Lumi's Shareholder and Member Meetings technology, feel free to get in touch.
Do members actually want virtual AGMs?
When considering whether a virtual AGM is right for an individual association or member based organisation, many meeting planners end up asking these questions:
Is this what the attendees actually want?
Will people actually show up for a virtual AGM?
Is it worth changing how we do things if it will actually not improve anything?
It's not enough to make such a big decision on anecdotal information. Major changes to how your meetings operate should be based on data, not speculation. That's why we commissioned a survey of 7,000 members across the globe to determine how they feel about the associations that they are members of, and about how online meeting options might affect those relationships.
In this research, we found that an average of 53% of respondents indicated that online meetings would make them more likely to participate. Notably, this was the case regardless of attendance barriers – from time and distance in countries like Australia, to a lack of trust in the organizations in countries like Singapore. Even (especially) those who trust their organizations to do the right thing said that they would be more likely to participate if online options were available.
The study also concluded that young people and women were more likely to express distrust in their organizations and a subsequent desire to be involved. Virtual AGMs not only allow for the kind of access that would appeal to these members, but it also ensures that they feel valued and like their opinions matter to their organizations.
If you would like to read our Global Member Insights Report and learn more about how Virtual AGMs would appeal to your members, you can download a copy here.
Virtual AGM – Debunking The Myths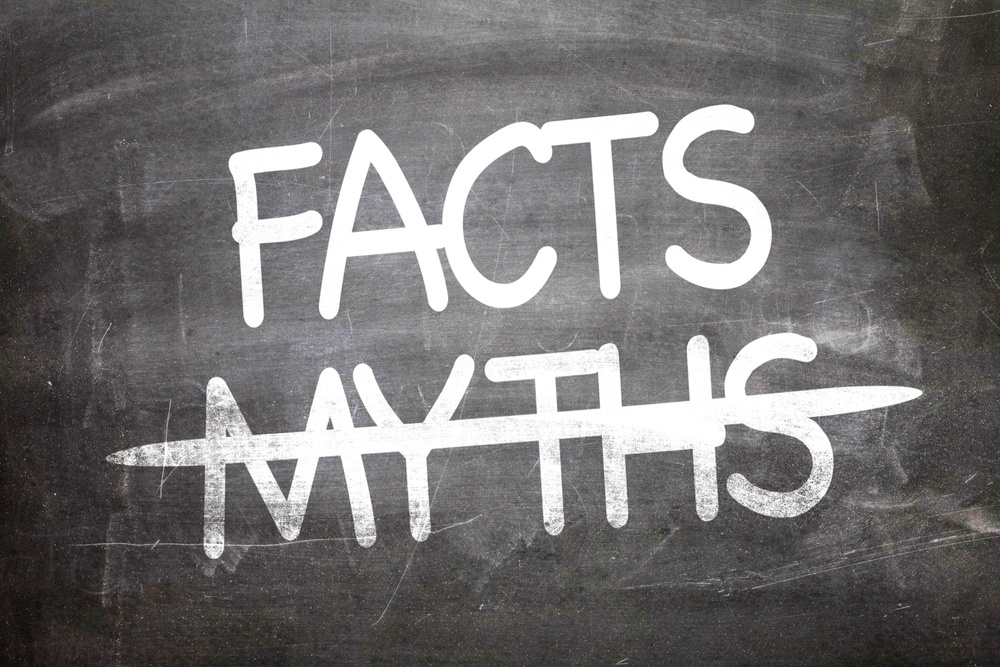 Having attended a few conferences and exhibitions recently across the US & Canada, it seems to me that there is a general sense of wariness around virtual shareholder meetings, and whether these are a positive or negative force to ensure good corporate governance. From talking to many CoSecs, I am constantly being asked variations of the same 5 questions, so I thought I would debunk some of the common myths that surround virtual AGM and shareholder meetings.
Hosting a Virtual meeting will disengage our shareholders
Its not news that shareholder attendance at annual meetings is in decline, and with the format of the annual meeting remaining relatively unchanged for years, its no wonder that shareholders are not making the effort to attend an annual meeting. Given this backdrop of apathy, coupled with a desire for issuers and investors to improve shareholder engagement, I'd like to debunk the myth that a virtual meeting could somehow stymie interaction and engagement, and actually, I believe they can materially increase that.
A Virtual meeting means that shareholders can't hold the Board to account
ThiS is simply not true. Virtual meetings offer the same transparency as an in-room only meeting, ensuring that there is still a forum to hold the Board to account, and to build the necessary trust between the Board and the Shareowner. The technology already exists, and is being used every day, for attendees to submit questions and comment. This can be done by simply typing those in, they can be moderated, or not, as required, they can even be displayed to the rest of the audience which can promote further discussion – rather like a shareholder standing and speaking in the room. And, of course, its still possible to allow for verbal questions – using speaker queuing technology. This all speaks to the concepts of trust and transparency.
A virtual meeting prevents inclusivity
A virtual meeting actually offers greater benefits for accessibility than holding an annual meeting in a fixed, physical only location. Many shareholders are much less willing to travel long distances, which can often mean a large expense for travel and hotels. And if an individual represents or owns shares in multiple companies, attending numerous physical only annual meetings becomes a costly and time consuming process.
The adoption of virtual tech is just too complicated
Many governance processes have already become digitized and dematerialized, with a great deal of innovation being welcomed by issuers (e.g. eComms, electronic proxy etc). And whilst the virtual platform itself has taken many years to develop and refine, running a virtual meeting is as simple as accessing a web page or using an app on a mobile device. The use of mobile is ubiquitous – mobile ownership is now greater than that of desktop – and its functionality is simple to use. Its always a good idea to hold a trial run of your meeting, so the Board and the Chair are comfortable with how any voting results are displayed, or how to view questions, but for shareholders and issuers alike, the adoption of virtual technology is simple and straightforward.
A virtual meeting isn't secure
Again, this is a myth that is easy to debunk. There are multiple measures put in place to keep digital AGM secure, from anti-hack platforms to tight security protocols to secure cloud based networks. The security of a virtual meeting is paramount to any facilitator. What's more, any entrant into a virtual meeting platform would need to be authenticated. Credentials are communicated to attendees in advance of the meeting, and without these, access to the meeting through a webpage or through the app, would be prohibited.
Changing demographics, alongside changing expectations of how meetings and their components are delivered, means that modernization of the Annual Meeting is inevitable.
Lumi, as well as me personally, are passionate advocates for the adoption by issuers and their advisors of virtual meeting technology. Whether that is part of a more cautious adoption through the use of hybrid – holding a physical meeting that also allows for remote participation – or by following in the footsteps of many issuers that have already gone fully virtual – the benefits to both boards and shareowners are clear. Both retail and institutional investors value the annual meeting, and the opportunity to engage with the Board. But if the virtual approach is taken seriously, the content is appropriate and the board are behind a virtual meeting, then issuers can benefit from both the logistical advantages and efficiencies of a virtual approach, whilst increasing reach, attendance and interaction with your ownership.
If you don't have time to read the whole blog or simply want to find out more about the frequently asked questions regarding a hybrid AGM then download our free resource here:
In The Room vs Hybrid vs Virtual
Having your cake and eating it too – Evolving Virtual Shareholder meetings
While there has been a steady evolution of greater digitalisation/dematerialization in AGMs and shareholder meetings over the last couple of decades, the move to so-called virtual meetings has generated a lot of attention. The US has led the way, but other regions have seen growing interest, including adoption in the UK and Canada, as well as garnering the support of the Australian Shareholders Association. In the US, the format is commonplace (see figure 1), and the debate has moved on from whether or not to run a virtual meeting but rather how to run a virtual meeting.
Figure 1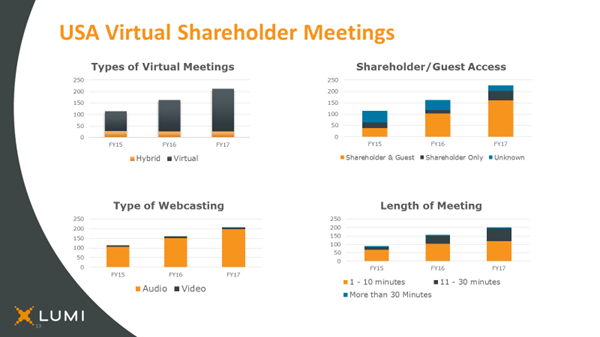 There are questions from both investors and issuers about how this format can facilitate good corporate governance while at the same time, allowing issuers to maintain control and ensure the meeting runs smoothly.

In a recent webinar and white paper, both hosted by Computershare, this topic came up.

There has been a perception that the virtual meeting format is a trade-off between either giving issuers the ability to kill the meeting or giving investors, both retail and institutional shareholders, the opportunity to hold company boards to account. Lumi's view is that you can have your cake and eat it too. Both of these objectives can be accommodated through virtual meetings as well as positively impacted and improved.
In a virtual or even a hybrid meeting, it is possible to facilitate more sophisticated approaches to voting and discussion in an easy-to-manage way. The question for the industry is to reach agreement on what should be the best practice. This may be different from country to country but some of the principles will be universal. Computershare's white paper looks at how virtual and hybrid shareholder meetings and AGMs are being adopted in different markets around the world. Lumi is the main provider in many of those markets to the world's leading transfer agents, registrars and end users.

Additionally, in expansive geographies like the US, Canada and Australia, or even where there is cross-border ownership, there are also of course cost and logistical benefits. For the issuer, they are obvious – venue rental, catering, security, staging, as well as Board travel time. The same is true for other stakeholders, whether that be shareholders, proxies, guests or press. No longer is a whole day required to navigate one meeting; institutional investors for example can now 'attend' multiple meetings on any given date, especially given the seasonal nature of AGMs, and bypass travel time and the related expense. With mobile ownership now surpassing that of toothbrushes, the ubiquity of smart devices furthers that convenience – an AGM in your pocket, if you will. With an estimated 97% mobile ownership among millennials and Gen-Xers, is there also an opportunity to harness this technology to involve a typically hard-to-engage demographic in corporate decision making?

Lumi has decades of experience in providing digital tools to improve a whole range of meeting types and events. As well as providing for authentication, webcast access and proxy voting and balloting protocols, technology can enable the mainstay of shareholder meetings, the Question and Answer session, to be more interactive, improving the quality of the questions from a wider base, while at the same time giving meeting organizers the tools for moderation and control to ensure the orderly conduct of the meeting. Indeed, a physical-only meeting is limited in its demographic of attendance because of logistical and cost factors. Far from restricting discussion between shareowner and board, a virtual element can make the debate far more relevant and open. Warren Buffett for example has reporters moderate Q&A at his huge Berkshire Hathaway stockholder meeting, often dubbed Woodstock for Capitalists; couple that kind of innovative approach with broad-reach virtual technology, and the contention could soon be whether access and transparency, and thus good corporate governance, is actually hampered by a physical only meeting.
Why should I consider a hybrid or a virtual AGM
Take Your Meeting Online
A new generation of investors is more aware of issues such as the importance of good governance, tackling climate change and addressing social issues. And they think that the businesses they invest in should play their part. Meanwhile, new rules give investors more influence over how companies are run.
Companies are under growing pressure to listen more to their investors and other stakeholders and take their views into account.
Companies need to respond to these changes and find ways to engage more with their investors. That means annual meetings are more important than ever as a way for shareholders and companies to talk to each other, but AGM voting procedures and other processes must be adapted to account for changes in expectations, both internal and external.
New digital technology allows you to do this more effectively, with virtual and hybrid meetings presenting one of the biggest opportunities in this area.
Virtual shareholder meetings (VSMs), which are becoming increasingly popular, are meetings where participants attend via an online platform that allows them to ask questions, vote and participate electronically in real time, as opposed to travelling to the physical meeting.
A hybrid meeting offers the option for remote participation alongside the physical meeting. This online option opens up your meeting to shareholders around the world who can't attend in person preserving the ability of the shareholder to pose questions to the companies they own, while also making the meeting far more accessible to the vast majority of shareholders who are unable to attend physically.
Holding AGMs in one physical location can limit the engagement of that meeting.
With Lumi's Virtual AGM technology, shareholders can log in to the AGM remotely from anywhere. They can watch proceedings, have their say and use electronic voting from the comfort of their own homes, in the office or while they're travelling for business.
Virtual and hybrid meetings offer exactly the same transparency as an in-room meeting, ensuring that there is still a forum to hold the board to account. Virtual attendees can use tried and tested technology to ask questions and comment on proceedings. Written questions can be displayed to all attendees to promote further discussion, just as if a question was asked in person by a shareholder in the room, while it is also possible to allow attendees to ask questions live using speaker queuing technology. The tech also makes it easier and quicker to access records of the meeting.
In an era where meeting attendance has been in decline, the virtual or hybrid meeting can reignite enthusiasm among your shareholders, as well as increase transparency and accountability. Now is the time to take your meeting online.