During lockdown, everything that could move online did go online, and that included annual meetings, where organisations switched their traditional in-person annual meetings to hybrid (a mix of in-person) or virtual (online-only) AGMs.
According to Institutional Shareholder Services (ISS), the shareholder advisory firm, as of April 22nd, 2,240 annual meetings around the world were planned to be online-only, up from 286 for all of 2019. However, numbers being released from many Registrars and Transfer Agents, as well as our own data, show that this number is considerably higher.
But as in many other areas, whilst lockdown may have instigated a change, organisations have realised that virtual AGMs are not just a short term solution – there are benefits to be had, even as restrictions ease. Higher attendance numbers, a greater representation across the shareholder or member base, better engagement, lower costs, positive environmental benefits and less time consuming are all reasons that our clients have cited as why they will continue with virtual meetings in the future.
Those that have made the switch already know the value to their organisation of a hybrid or virtual AGM, but one of the most common questions we are asked is how much does a hybrid or virtual AGM actually cost?
There are several factors that can affect the cost of adding a virtual element or going entirely virtual to your annual meeting.
The size of your register or member base is an initial starting point, whether you are holding an in-room AGM, a hybrid meeting or a virtual AGM.

Are you having an in-room component alongside your virtual meeting – the "new" hybrid? An entirely virtual annual meeting will negate the need for venue hire, for transportation costs for your board of directors and staff, for refreshments etc. which could actually reduce your overall costs

Will your meeting be streamed live as a webcast so that your shareholders/ Board members can watch the AGM, or as an audio stream only? Whilst an audio cast will be a lower cost, many organisations choose to have the AGM streamed live to make the audience feel part of the meeting. This can be particularly helpful if you are having discussions around key topics or resolutions that you will then ask your members or shareholders to vote on. As with anything, there are different levels of cost dependent on the level of production. A single fixed camera will be a lower cost than a high production set, for example.

Will you be asking your shareholders or members to vote at your meeting? And would you like to open the voting window before your meeting, to allow as many votes to be cast as possible? How complex are your voting requirements? The answers to these questions will help to determine the overall cost of your meeting.

This picture of the UAE Football Federation's virtual AGM gives you an idea of the new post-COVID reality for annual meetings. It's unlikely that large, fully in-person AGMs will return again and it's much more likely that the new hybrid model of a virtual meeting with a small in-room component will become the norm.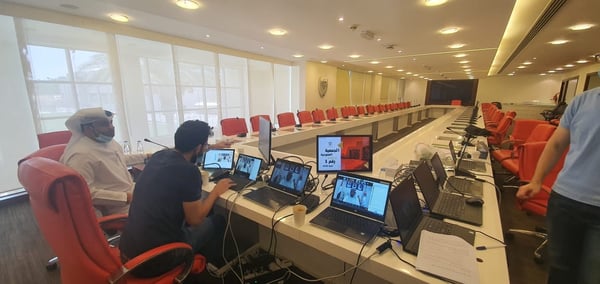 Lumi has run over 1,200 virtual meetings in more than 28 countries so far in 2020.